14 Vesey Street
New York County Lawyers' Association Buiding
(NYLPC Landmark and National Register)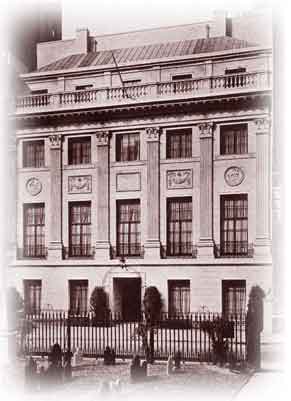 Status: Inspected but not affected.*
New York County Lawyers' Association building was designed by the world renowned architect, Cass Gilbert. On May 26, 1930, "The Home of Law" was dedicated on land acquired from the Astor family with building designed by Cass Gilbert, architect of among other buildings, the Woolworth Building. It's an 18th century English Georgian style that handsomely complements the 18th-century Saint Paul's Chapel, which is across the street.
The New York County Lawyers' Association turns 92 years old this year. NYCLA has pioneered some of the most far-reaching and tangible reforms in American. The NYCLA is an organization that has operated exclusively for charitable and educational purposes with the primary objective of promoting the public interest by advancing the science of law.
Due to our proximity to the WTC, the NYCLA building is temporarily closed. However, reports are that there is no damage to the building.

Emergency Management Online Locator System - Transportation and Public Access
*Status of this building was obtained by matching Building Structural Status map and Transportation and Public Access map from OEM. Status may not be accurate, if you know the status of this building, please e-mail webmaster@preserve.org and let us know.