Castle Clinton
National Monument (NR)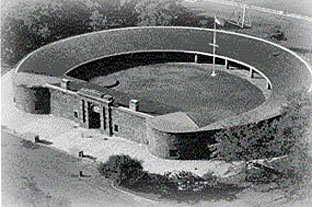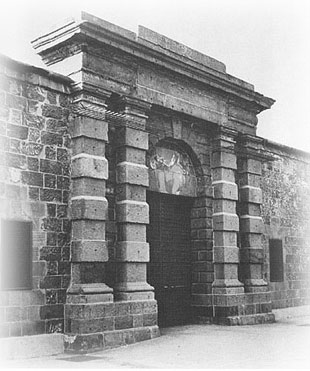 Castle Clinton National Monument/earlier New York Aquarium (1896-1941)/earlier Emigrant Landing Depot (1855-1890)/earlier Castle Garden (1824-1855)/originally West Battery (1808-1811, renamed Castle Clinton, 1815). Lt. Col. Jonathan Williams and John McComb, Jr. Open to the public: 7-5 daily. 212-344-7220.

Until recently, one of the most vitally involved structures in the city's life and history. Built as West Battery for the War of 1812 to complement Castle Williams across the waters on Governors Island (it never fired a shot in anger), it was originally an island fortification some 300 feet offshore, connected to Manhattan by a combination causeway bridge. Twelve years after the war it was ceded to the city. As a civic monument it served for the reception of distinguished visitors at the very edge of the nation (General Lafayette, Louis Kossuth, President Jackson, Prince Albert). Remodeled as a concert hall and renamed Castle Garden, it enjoyed a moment of supreme glory in 1850 as the site of the P.T. Barnum-promoted American debut of the Swedish soprano Jenny Lind. Only five years later it was transformed into the Emigrant Landing Depot, run by N.Y. State, where some 7.7 million new Americans were processed. Scandal led to its closure, and the processing of immigrants was transferred to federal control, at the Barge Office in 1890 and at Ellis Island in 1892. Changed by McKim, Mead & White, it became the New York Aquarium until 1941.

It was doomed by Robert Moses' call for its demolition to build approaches for his ill-fated harbor bridge to Brooklyn -- today's Brooklyn-Battery Tunnel. A loud civic clamor and the reported intervention of Eleanor Roosevelt miraculously saved it though it languished inside a construction fence for decades. In 1946 the ruin was named a National Historic Monument. In 1986 it became a ticket office for the boats to National Park service attractions in the harbor.


Source: A.I.A Guide To New York City, 4th ed.