90-94 Maiden Lane
International Commmerical Bank of China
(NYLPC Landmark)

Status: Not Affected*
90-94 Maiden Lane (lofts), between William and Pearl Sts, at Louise Nevelson Plaza. circa 1870 - 1871. Attributed to Chares Wright.
This 4-story iron cast building located is one of the few mid 19th Century commercial structures still standing in the financial district. It is a French Second Empire building with iron front.

Sources: A.I.A Guide To New York City, 4th ed. and Guide to New York City Landmarks (Andrew S. Dolkart).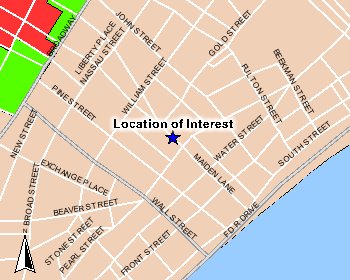 Emergency Management Online Locator System - Transportation and Public Access
*Status of this building was obtained by matching Building Structural Status map and Transportation and Public Access map from OEM. Status may not be accurate, if you know the status of this building, please e-mail webmaster@preserve.org and let us know.