Status: Inspected But Not Affected*
Liberty Tower, 55 Liberty St., corner of Nassau St., circa 1909 - 1910.
Liberty tower is a 33-story building adjacent to the Chamber of Commerce clad in white terra-cotta over limestone. Fanciful ornaments include birds and alligators.
In 1979 (one of the earlies residential conversions in lower Manhattan) the building was converted and opened to residential housing with 87 apartments by architect Joseph Pell Lombardi. The building provides luxury housing.

Source: A.I.A Guide To New York City, 4th ed.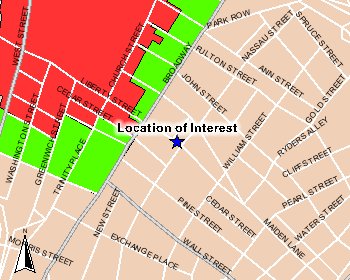 Emergency Management Online Locator System - Transportation and Public Access
*Status of this building was obtained by matching Building Structural Status map and Transportation and Public Access map from OEM. Status may not be accurate, if you know the status of this building, please e-mail webmaster@preserve.org and let us know.