51 Chambers St.
Emigrant Industrial Savings Bank Building
(NYLPC Landmark &National Register)
Status: Not Affected*
Emigrant Industrial Savings Bank Building is located on 51 Chambers Street, circa 1908 - 1912. Architect: Raymond F. Almirall)
The bank provided financial services for New York City's rising Irish Catholic immigrant population. The bank provided easy transfer of funds between New York and Emigrant's branch offices in Dublin.
The building, a mix of Beaux Arts and Art Nouveau, is now used by the New York City.


Source: A.I.A Guide To New York City, 4th ed.,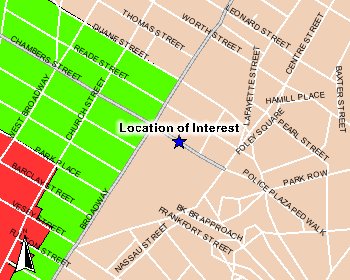 Emergency Management Online Locator System - Transportation and Public Access
*Status of this building was obtained by matching Building Structural Status map and Transportation and Public Access map from OEM. Status may not be accurate, if you know the status of this building, please e-mail webmaster@preserve.org and let us know.