WELCOME
Where in New York City can you hike hilly trails through beautiful native trees and plants, see rare geological sites, and observe hawks, owls, raccoons, and opossums all while enjoying spectacular views of New York Harbor, Brooklyn and Queens, the New Jersey Highlands, and the Verrazano Bridge? Right here on the North Shore of Staten Island at the Serpentine Art and Nature Commons.
The Serpentine Art and Nature Commons (SANC) is a not-for-profit community based group founded in 1978 and dedicated to the preservation and maintenance of woods and hillside on the east shore of Staten Island. Our nature preserve provides open space and educational opportunities to some of the most crowded neighborhoods on Staten Island.
---
HISTORY
In the 19th century the industrial village of Stapleton developed at the bottom of Grymes Hill. Several of its breweries drilled caves into the hillside to store beer. Wealthy families built fanciful Victorian mansions at the top of the hill. For the most part, the land on the hillside itself was left undisturbed - primarily because the severity of the slope discouraged builders.
In the late 1960's several speculators bought the steepest part of the hill with a plan for development but concerned neighbors successfully sued to stop them. Unfortunately the owners leased the land to a contractor who scraped off the topsoil. Before a court order stopped him, he left three acres of the hillside looking like a lunar landscape.
Ownership of 11 ½ acres of the hillside was assumed by the Trust for Public Land (TPL). They encouraged concerned neighbors to form SANC to maintain and improve the land as a nature preserve open to the community.
SANC's first tasks were to clean up our wooded lands and begin the long process of rebuilding our denuded land. We removed trash, removed almost 100 abandoned cars, and installed fencing to prevent further dumping. The lower, flat land was made into a small neighborhood park with flowers, trees, and art exhibits. Trails through the woods and to scenic overlook at the top of the hill were completed. Neighborhood youth and a part-time groundskeeper were hired to maintain the grounds. SANC offered its expertise to other groups devoted to preserving hillside land.
HIGHLIGHTS
---
BIODIVERSITY:
SANC is notable for its variety of ecosystems including wooded hillsides, glacial sinkholes, and bare serpentine rock. Most of its land remains in a natural state and is covered with native trees and plants. They are a good example of the natural cycle of growth, maturity, and decline. Opossums, raccoons, squirrels, rabbits, and a variety of birds live in its underbrush and trees. A colony of red tailed hawks has developed and can often be seen floating above our woods. Land stripped of topsoil is going through a natural redevelopment and reflects the tenacity of plant life in a hostile environment.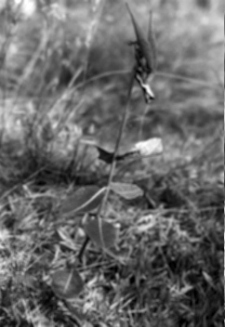 Green Milkweed (spring), and Green Milkweed (fall)

Slender Knotweed
---
TRAILS:
SANC maintains several trails on its property. These trails provide access to the wooded areas, serpentine barrens, and a scenic promenade. One trail starts from our main entrance on Van Duzer St. and climbs steeply to an intersection about two-thirds of the way up the hill. There the trail splits. The trail to the left goes through wooded lands and past a glacial sinkhole ultimately climbing via a step staircase to Howard Ave. It also connects to another trail (not on SANC land) which runs through to Park Lane The trail to the right climbs an additional 100 feet to a scenic overlook and serpentine barren and then loops around to join the trail to the left. A map of the trails is at the Van Duzer Street entrance.
---
VIEWS:
Our scenic overlook faces lower New York Harbor and provides vistas from the New Jersey Highlands to Far Rockaway. It is an excellent place to view the Verrazano Bridge, Coney Island, and the variety of ships in the harbor.
---
GEOLOGY:
SANC's hillside is the result of glacial movement and continental collisions and includes a variety of geological formations. Most notable is the serpentine barren. This is olive green scaly rock that crumbles easily. It is rare in the New York area and supports a unique variety of plant life.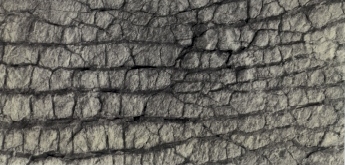 Serpentine Rock
---
EDUCATIONAL OPPORTUNITIES:
SANC provides field trip opportunities for local schools and other groups in areas including:
Life sciences
Botany
Environmental studies
Geology
---
TRANQUILITY:
SANC is a nature preserve in an urban area. It provides the opportunity to escape the stresses of life in a peaceful, natural environment of great beauty.
---
ACCESS
SANC grounds are open from dawn to dusk, except in inclement weather, as posted at the Van Duzer Street gate. Our main entrance is located on Van Duzer St. between Broad St. and the intersection of Van Duzer St. and St. Paul's Ave. It is 30 minute walk from the Staten Island Ferry - take Bay St. to Van Duzer St. You may also take the S74 bus from the ferry terminal and get off at the intersection of Broad St. and Van Duzer St. Turn right and walk one and a half long blocks on Van Duzer St. (house numbers will decrease). SANC is near the Mud Lane Historic District. To visit the District go to the intersection of Van Duzer St. and St. Paul's Ave and continue up St. Paul's.
---
RULES
Stay on marked trails
Don't litter, carry out what you bring in
Please, no fires or camping
Clean up after your pet
Park closes at dusk and opens at dawn
---
MEMBERSHIP
SANC is open to the entire community. We encourage membership. Dues are $40 per year (larger donation cheerfully accepted), tax deductible, and our major source of income. Meetings are held the second Monday of each month (except August) at Kairos House on the campus of Wagner College, 631 Howard Ave., Staten Island, N. Y. Much of SANC's work (from maintenance to proposal writing) is done by volunteers. If you're interested in volunteering please contact John Garcia at john.garcia35@gmail.com.
---
CONTACT INFORMATION
Write: Serpentine Art and nature Commons Inc., PO Box 40252 ; Staten Island, N Y 10304-0005
e mail: john.garcia35@gmail.com
phone: John Garcia at 646-217-2499
---