KINGSLAND HOMESTEAD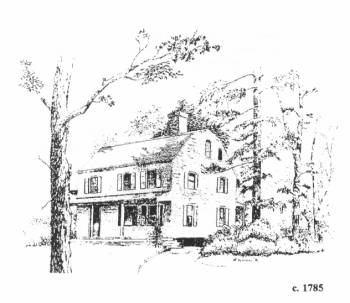 The late 18th century Kingsland Homestead stands in a small park in Flushing, in the shade of the landmark Weeping Beech tree, planted in 1847. It is the headquarters of the Queens Historical Society. Kingsland is located steps away from the 17th century Bowne House (the place where Quakers were first permitted to meet in New Amsterdam).
Charles Doughty, who built the house about 1785, was the son of Benjamin Doughty, a wealthy Quaker who purchased land on the old turnpike in Flushing. The name Kingsland derives from Doughty's son­in­law, British sea captain Joseph King, who bought the home in 1801.
The two-and-a-half story homestead has a gambrel roof, a crescent shaped window in a side gable, and a Dutch-style front door split across the center. There is also an unusually wide hall and a largely intact original chimney. In 1805 Captain King overlaid the original exterior with shingles on all but the west side of the house.
The first floor is used for exhibits depicting Queens history, drawing on the collection of the Queens Historical Society and community resources. A second floor parlor is decorated as if it belonged to a middle-class Victorian family. Personal mementos such as lacework, diaries, notebooks and eyeglasses belonging to the Doughty and King families and later residents are displayed from time to time.
In 1923 a proposed subway extension threatened to destroy the house, and it was moved to the site of a nearby stable that Captain King had built more than a century before. When the house was endangered by new construction in 1968, the three­year­old Kingsland Preservation Committee had it transferred to its present location on property that once belonged to Samuel Parsons, a Flushing nurseryman. The move preserved a house typical of its time but rare today.
---
Return to Queens Historical Society
last revised 11/17/96
by David Goldfarb